This page is UNDER CONSTRUCTION

The contents of this page may be informal and incorrect. Please help by adding reliable info and correcting wrong data! We apologize for any inconvenience.
Description
The Interceptor, is a fictional and modified 1973 Ford Falcon XB muscle car from Mad Max that is only achievable if you bought the game while it was in Pre-Alpha.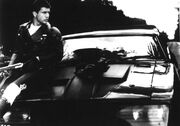 Specifications
Upgrades
Max Speed
The Interceptor isn't the fastest vehicle in the world, without nitro it is around 220 MPH,
Acceleration
Unknown
Braking
Unknown
Handling
A bulky monstrosity that likes to power forward without turning, even when upgraded. Use of handbrake is necessary.
Facts
- Crashing into oncoming vehicles at a high speed may sometimes cause frequent small explosions from the rear gas canisters. The gas canister material is changed to Corroded Metal temporarily.
-Reversing has a high top speed of 247 MPH (397 MPH) while the top speed is 240 MPH. (386 MPH)
-Rocket Fuel has a supercharger whine sound. The 1970 Dodge Charger used to have the same feature, but was removed.